THE DETROIT FREE PRESS
https://www.freep.com/story/news/local/michigan/2023/03/31/where-it-rains-in-color-denise-crittendon-book/69985424007/
Pam Perry Picks
www.youtube.com › watchDenise Crittendon: Where It Rains in Color – YouTube
The Detroit News www.detroitnews.com › story › entertainmentNovel by Detroit native takes readers on an Afrofuturistic …
PulseBeat Radio interview by Greg Dunmore, January 2023
Coffee in Space
105: Denise Crittendon: Where it Rains in Color
00:00|30:51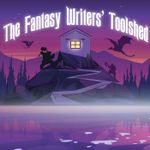 The Fantasy Writers' Toolshed
The Writing Process With Denise Crittendon
December 13, 2022
50 min
READING WITH DENISE CRITTENDON — SHELF AWARENESS
https://www.shelf-awareness.com/sar-issue.html?issue=1158#m20997
LISTEN ON
PAM PERRY SHOW March 8, 2023
https://www.amazon.com/live/broadcast/e61aae87-a6ef-4e7b-8465-0128edc6431e?ref=cm_sw_al_bjrt01qFdDr69
SFX Magazine Interview, November 2022
LJ TALKS TO SFF WRITER DENISE CRITTENDON ABOUT 'WHERE IT RAINS IN COLOR'
(EXCERPT FROM LIBRARY JOURNAL INTERVIEW)
by Kristi Chadwick
Nov 02, 2022 | Filed in Reviews+
A veteran journalist, Denise Crittendon has been writing for so long that she sometimes wonders if she has ink in her blood. Her career includes two major metropolitan daily newspapers and stints as editor-in-chief of two magazines, one national and one based in her hometown, Detroit. She lives in her city of origin six months of the year and spends the rest of her time near relatives in Spring Valley, Nevada. Kristi Chadwick, LJ's co-columnist for SFF, talks with her about writing, reading, and the SFF genre.
What drew you into writing speculative fiction?
Speculative fiction was an obvious choice for me because I don't like being boxed into a specific way of thinking and viewing the world. I like to look beyond and ponder about all sorts of scenarios. For instance, suppose we're dreaming or maybe we are someone's dream. Maybe we're just a cell in the elaborate brain of a higher intelligence. The possibilities are unlimited, and I love diving into them. As a child, I was the type who was always staring up at the clouds or being reprimanded for daydreaming in class. I also asked tons of questions—especially "why?" After I became a newspaper reporter, asking who, what, where, when, and why became my daily routine. But it didn't take long for my raging imagination to begin yearning for more and asking "what if," which is the ultimate speculative fiction question. For years, I would wake up in the morning with probing ideas and strange dreams swirling in my head. I'd jot down these dreams and ideas, not sure what they meant or what I would do with them. Then, I began reading Frank Herbert, Ray Bradbury, and my personal heroine, Octavia Butler. I knew that was the type of writing I wanted to emulate.
Your SF debut, Where It Rains in Color, focuses on Lileala and her journey through discovering that her power is not just in her beauty. What brought this book idea to you?
It all started with a dream. Although I'd been having creative dreams for years, this one haunted me and repeated itself a few times. I'd see this mysterious woman standing alone on a cliff wearing a hooded cape. One night, a couple of peculiar-looking beings appeared beside her, and I heard them sentencing her to the "Keloid Planet." Meanwhile, she talked about speaking in something called the Inekoteth tongue. When I woke up, I jotted it down and went off to work. Years later, I was in between jobs and pulled out these notes, hoping to use my brief downtime to turn them into a novel. Unfortunately, my hastily written novel didn't sell, and since I had a new, demanding job editing a national magazine, I couldn't focus on a rewrite. I stuck it in a desk drawer and forgot about it. Fast-forward two decades. I was no longer working a nine-to-five job and happened to stumble upon my abandoned manuscript. At the time, I had established myself as an independent ghostwriter but felt compelled to pull out this template of a novel and revise and develop it. For about a year, I worked on it off and on in between projects.
The novel has another backstory as well. After years of introspection, I wrote self-help books for teens. I was volunteering at a girls' home and wanted to create something to empower them, as well as other teens. Before long, local organizations began inviting me to conduct teen "inner beauty" workshops on weekends. With Black girls, one thing stood out—no matter how pretty, how bright, how talented—many of them didn't like their hair or their dark skin. I was crushed, though I understood the source. How else could they feel in a society that had fed them a steady diet of porcelain images—from white, blue-eyed baby dolls to Rapunzel and Snow White fairy tales?
So, when I sat down to bring the woman in my dream to life, these concerns were heavy on my mind. To address them, I fantasized about ways to promote a powerful identity and instill an understanding that societal perceptions do not define a person. In my talks to the girls, I always stressed the importance of taking your power back. Where It Rains in Color is part of that self-affirming effort. The novel also includes the underlying theme that when we look beyond surface appearance, we might be surprised by the inner treasures we discover.
Do you feel that science fiction and fantasy is a genre that opens opportunities for Black writers? Are there other genres you would like to see more Black writers publish in?
I perceive science fiction and fantasy as an escape from our current reality of oppression in a society that's fixated on relegating individuals to a hierarchy based on race and skin color. Other novels often keep Black characters mired in injustice, mainly because it's happening all around us. It's the truth. However, Black writers who choose spec fiction can unleash our imaginations and create whatever worlds we want, however surreal. This isn't the case with literature that's stuck with prevailing social norms, three dimensions, the laws of physics, etc. I firmly believe in the Einstein quote, "Imagination is more important than knowledge." Since sci-fi is expansive, Black writers can produce alternative landscapes on Earth and/or among the stars that showcase aspects of our abilities and talents that the larger society prefers to overlook. Besides sci-fi and fantasy, I think I'd like to see more Black writers exploring magical realism.